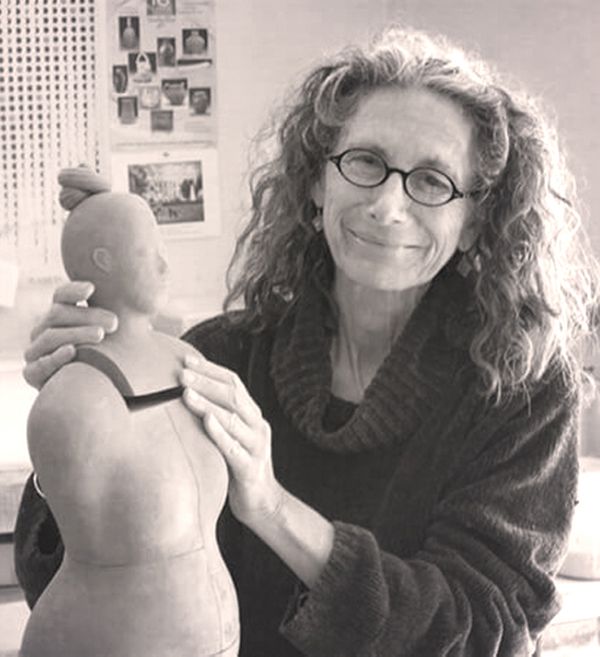 About Donna ...
Donna Polseno is an artist and educator who, along with her husband and fellow ceramic artist Richard Hensley, lives in Floyd, Virginia.
"I grew up in Connecticut where my father was a painter and illustrator who supported his family of four with his work. My mother was the handiest woman I ever met. I loved watching my father work and art was the only thing I ever got praise for in high school so I ended up at the Kansas City Art Institute where I fell under the spell of ceramics and Ken Ferguson. I went on to study with Wayne Higby and got a graduate degree from RISD.
I then moved, with my husband/potter Richard Hensley, to rural Floyd, VA in the Blue Ridge Mountains to set up our studio, where we have always lived and worked and raised a family. I have always been a studio potter and sculptress with more than the occasional teaching experiences thrown in. I have taught at most of the craft/art schools over the years such as Penland, Anderson Ranch, Banff Center, Arrowmont...
I have taught summer programs at several colleges such as University of Michigan and Alfred University. I have been an artist in residence in Turkey, Jingdezhen, China, and the Archie Bray Foundation. I live every summer now in a remote village in Liguria, Italy and teach in Tuscany at La Meridiana School for Ceramics. I have been honored by the NEA with 2 artists fellowships and received a Virginia Museum artists grant. I am currently the director of "Women Working with Clay"- an annual symposium that takes place at Hollins University where I teach part time."
A Sculpture in Honor of Mimi Dopson, "Mimi"
Donna designed and created this life-sized sculpture to honor Mimi, and it was installed at La Meridiana Ceramics School in Tuscany. Mimi y Roberto studied with Donna at La Meridiana and Hollins College.